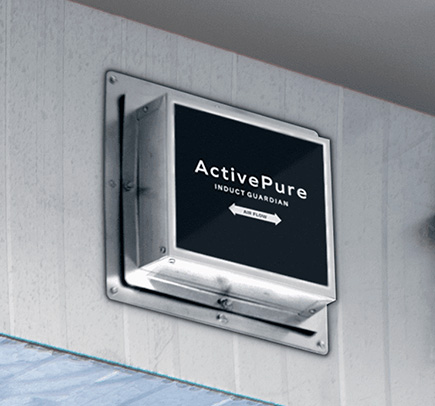 Air purification systems for HVAC units, also known as "in-line or induct" purifiers, are air filtration technology integrated into the ductwork of HVAC units. These devices provide cleaner air throughout a building and its rooms. Our commercial Induct Guardian units utilize ActivePureŽ Technology to provide industrial-strength air purification. It efficiently reduces contaminants in the air, such as mold, bacteria, and viruses. An ActivePureŽ powered induct HVAC purification system is an efficient and effective way to purify the air while offering robust sanitization capabilities within your existing HVAC system.
Coordinate with our team to create a comprehensive review of your building's structure and its HVAC design. That way, we can identify your facility's needs and goals.


We conduct commercial air quality tests to understand and get a baseline of your building's current indoor air quality.


Our Induct Guardian systems provide customized air quality solutions that meet sanitization protocols.


The Induct Guardian air purification solutions are proven to be effective and safe for occupants.


We provide on-site project management support for designing, testing, and installing our induct air purifiers within your HVAC systems.


Our team of engineers and subject matter experts will help you avoid costly mistakes.

The Advantages of ActivePureŽ Induct Units
Improved Indoor Air Quality and Clean Surfaces:
Equipped with ActivePureŽ Technology, an active air purification technology proven to reduce 99.99% of contaminants and pathogens in the air and surface.
Efficacy of ActivePureŽ Technology
ActivePureŽ Technology has been rigorously tested by independent third-party laboratories and organizations.
Government Funding Availiable
Seek government funding to offset the costs of implementing ActivePureŽ HVAC Induct Guardian air purifiers for your building.
Professional Air Quality Tests Before and After Installation
Get an understanding of your current air quality levels with professional testing. After the installation, we'll conduct an air quality test to show the effectiveness of our system.
Improved HVAC Performance and Management
Reduce your time spent managing HVAC units with fewer filter replacements and improved performance.
Reduce Costs
Experience significant savings on purchasing filters upfront and replacing them as well as a reduction in energy consumption.