Ballistic Window Film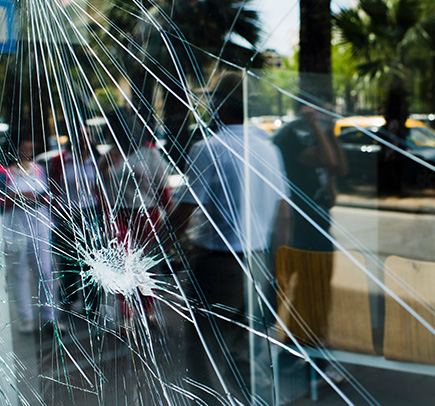 Commonly referred to as "bullet resistant" or "ballistic window film", these retrofit products do not have bullet stopping power when installed on regular glass. RiotLite from DefenseLite is an effective solution for protecting buildings from active shooter attacks by helping delay an attacker's access through glass and glazing. RiotLite is a clear security film laminate that is installed on the interior of existing glass and designed to hold glass together upon physical attack.
Like all window films, RiotLite is not 'bulletproof' and does not stop bullets unless installed on ballistically rated glass. Installed correctly, this heavy gauge security window film solution is anchored to the existing glazing frame with a strong structural adhesive. This anchor holds broken glass within the window or door opening creating the needed delay when under forced entry or ballistic attack.
PREVENT SCHOOL SHOOTERS WITH RIOTLITE SECURITY FILM LAMINATE
Are window films bulletproof? No. However, impressive anti-breach performance can be expected from properly installed glass film solutions. RiotLite from DefenseLite is a cost-effective solution for protecting buildings from active shooters by holding glass intact after an attack. By reinforcing the glass, RiotLite slows down the shooter's access and reduces the likelihood of entry into a 'soft target' like a school or campus building. This clear security window film is not ballistically rated, but can withstand serious ballistic attacks, providing a level of protection like factory laminated glass at a much lower cost. With RiotLite from DefenseLite, building entry, lobby and podium glass can be made safer without breaking the bank.
If you wish to learn more, call us now at
(405) 225-8249
or fill out the form below to contact us.