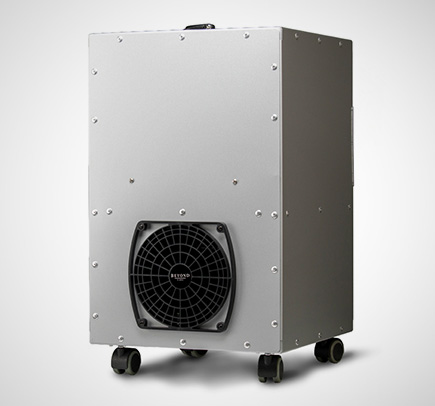 The Aerus Hydroxyl Blaster is a portable air purification device. It can reduce viruses, bacteria, and other contaminants in large indoor spaces at 300 cubic feet per minute. This device features ActivePureŽ Technology. ActivePureŽ has been proven to reduce over 99.99% of many common airborne and surface pathogens and contaminants.
Safe Indoor Spaces Start With Cleaner Air
ActivePureŽ Technology is an active air purifier that puts the same therapeutic molecules that make our outdoor air pure into the air but indoors. It actively neutralizes pathogens and volatile organic compounds (VOCs) entering rooms. ActivePureŽ provides a layer of protection that reduces airborne and surface pathogens effectively and swiftly and has been tested extensively for its efficacy in occupied spaces.
The Hydroxyl Blaster's Benefits
The Aerus Hydroxyl Blaster offers robust surface and air purification, plus these benefits:
Versatility: These systems are scalable for any size-sized room without taking up the necessary space for work or activities.


Reliability: Hydroxyl Blasters minimize contamination in a 24/7 constant cycle to clean the indoor environment quickly, safely, and effectively.


Functionality: Hydroxyl Blasters help reduce smoke, odors, viruses, bacteria, fungi, mold, VOCs, and allergens indoors to eliminate possible health problems for occupants down the line.


Proven effectiveness:The system uses ActivePureŽ Technology to disinfect surfaces and promote better air quality. ActivePureŽ Technology is supported by research conducted in an FDA-compliant laboratory.


Surface protection: Particles such as mold, bacteria, fungi, and other contaminants build up in large occupied spaces. ActivePureŽ Technology reduces surface contaminants to protect occupants against these pathogens on surfaces and in the air.


Helps remove odors: Remove unwanted odors that negatively affect indoor air quality, impacting employee productivity and customer experiences.


Reduce pathogens: ActivePureŽ Technology offers active protection to reduce harmful germs, viruses, and bacteria.

Aerus Hydroxyl Blaster Specifications
Coverage Area
Airflow volume: 300 CFM
Electrical and Safety
Power: 172 watts
Certified safe: UL STD 507
Noise Levels
Max 68 dBa
Dimensions
Weight: 24 lbs (11 kg)
Size: 22" H x 13" W x 13" D
(48.26 cm x 33.02 cm x 33.02cm)
Product ID
SKU 00667
Model F203C